We all have our favorite types of coffee. From iced coffees to hot espressos, we like what we like. Personally, I have an iced coffee every morning; Even when it is below 60 degrees, I will never settle for something hot. However, how do you know what the best type of iced coffee is? 
Want something sweet and creamy? Or maybe you prefer a more bitter roast? This article will go over both while adding even more so you can perfect your at-home coffee routine. 
What is Iced Coffee? 
In simple terms, it is regularly brewed coffee over ice. So, you don't need to ditch the coffee grounds you know and love. 
Iced Coffee vs. Cold Brew
Cold brew is often referred to as ice Coffee and vice versa. However, cold brew is made by steeping grounds in room temperature water to create a coffee concentrate that, after being chilled overnight or longer, you need to dilute with water or milk. 
Cold brew is less acidic and bitter while iced coffee has a flavor profile similar to hot brewed coffee. 
Benefits of Iced Coffee
For those who have digestive issues, consider switching from your hot coffee. Iced coffee is, in fact, 67% less acidic than hot coffee. In other words, you're less likely to have an upset stomach after drinking it. Going along with the lower acidity, it also helps to maintain healthy teeth. Still, it would be wise to brush your teeth after drinking any version of coffee.
Iced coffee also contains more caffeine due to the higher coffee-to-water ratio. 
How to make the Perfect cup of Iced Coffee
1. Brew your coffee. A general estimation is 3/4 cup of beans for 4 cups of water. If you have a Keurig, you can just pop your K-Cup in and do as many ounces as your coffee machine allows. 
2. Let cool for 15 minutes. Or overnight. If you want to make this step faster, just put it in your freezer for about 5 minutes. 
3. When cooled, add milk/sugar.
4. Fill glass with ice and enjoy!
How do I make iced coffee less watery?
Now I don't have this problem but, not everyone drinks their coffee in 5 minutes and we all know how gross watery coffee can taste like. So to eliminate this problem, make coffee cubes!
All you have to do is brew coffee and pour it into ice-cube trays. Then, chill overnight and the next time you make a cup of iced coffee, instead of using normal ice cubes, use your coffee cubes.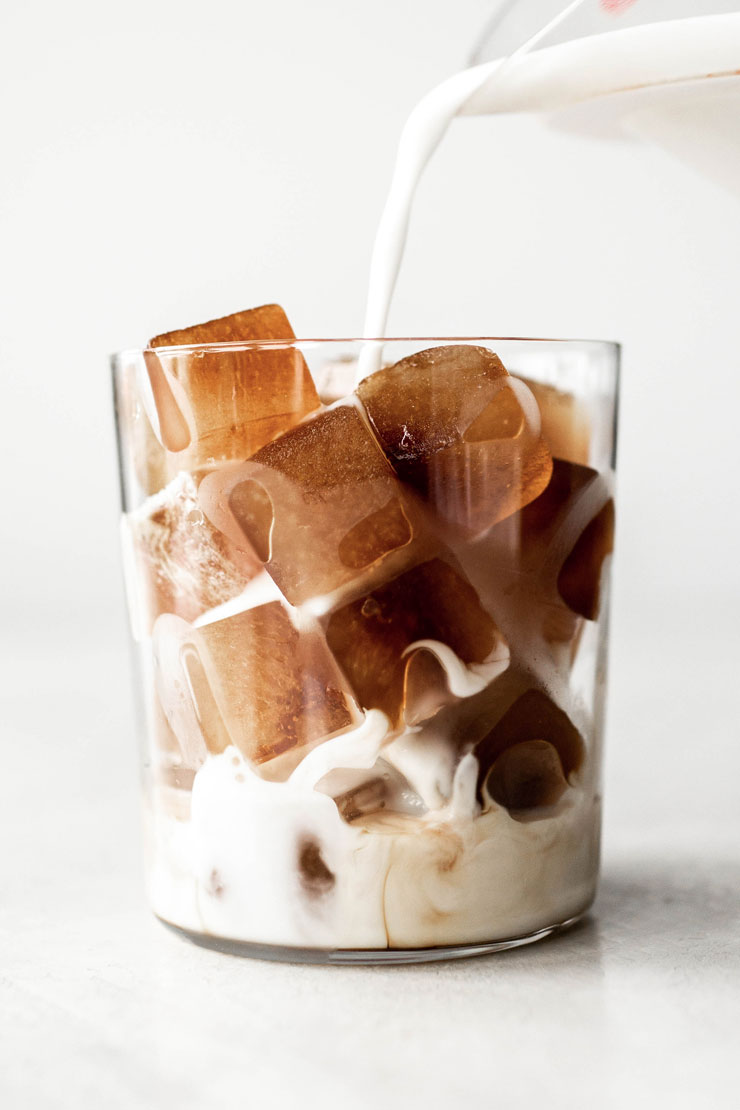 Best iced-coffee makers?
*Disclaimer* We are not affiliated with these brands, nor are we sponsored. These are just our top picks to help you better your iced coffee routine. 
Best overall-
This coffee maker has been ranked the best overall because of its price, simplicity, and its ability to make and store coffee. It holds up to 4 servings at the price of just $21. 
Longest Life-
This maker keeps coffee fresh for up to 2 weeks with its airtight seal. It is also only $39.99.
Best portable maker-
If you don't want to mess with an entire carafe and just want some iced coffee, consider the Oranlife. It can also keep coffee for up to 2 weeks and it's a breeze to clean. It's only $18.99.
Best Budget pick-
This maker can hold more than 2 quarts of coffee. It has a removable brew filter and is dishwasher safe. It is only $19.99, so it's the best pick for the price along with the added benefits of storage and easy-to-clean ability. 
For Beginners-
Forget the overnight brewing time. The Vinci Express takes 5 minutes. It has 4 brew settings along with its own cleaning cycle. While this is the easiest and most beginner-friendly coffee maker, it is $79.99. 
Ultimately the best iced coffees are the ones you enjoy. The blend and roast will not just determine the flavor, but it will also influence the consistency of your drink. There is no combination that can't make a great iced coffee if you use quality beans and source your water properly. However, if you would like to up your home-barista game, these are just a few tips you could implement into your routine. 


Sources Cited in Post


https://spy.com/articles/lifestyle/food-drink/best-iced-coffee-makers-1202782593/
https://www.thekitchn.com/cold-brew-vs-iced-coffee-23344740
https://www.thecommonscafe.com/does-iced-coffee-make-you-sleepy-or-awake/
https://takeyausa.com/blogs/press/first-for-women-3-easy-ways-to-make-non-watery-iced-coffee-at-home
https://hellolittlehome.com/how-to-make-the-perfect-iced-coffee/